Listen to a live stream here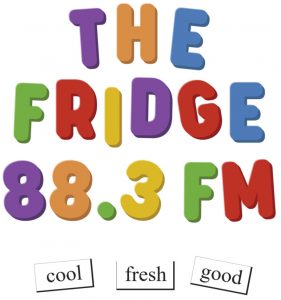 The Fridge: cool, fresh, good.
On air: 88.3FM Christchurch
Online: thefridge.net.nz
Email: thefridge@middleton.school.nz
Phone: 0800 THE FRIDGE
Murray Robertson 7am and 7pm daily.
The Chill Zone 10pm-6am nightly.
The Healthy Breakfast 7 – 9am weekdays.
The Fridge
The Fridge is where you find something fresh, cool and good.  And not just food.  At Middleton Grange School, you'll find fresh, cool, good music in "The Fridge", their student radio station.
Broadcasting on 88.3FM for a few kilometres around Upper Riccarton, The Fridge launched with a live outside broadcast from the school's athletics day last month.  
Students pair up to present music, fun and notices before school and at lunchtime, when the show plays over speakers around the school.  However, when these turn off, the music continues to broadcast day and night.  The Fridge can also be heard from anywhere in the world through the school's website. 
Professional on-air software, kindly provided by a commercial broadcast company, allows students to gain career experience with both live and recorded shows. 
It's early days, but The Fridge is shaping up to be a fresh, cool, good sound on site, on air and on line from Middleton Grange School.