Please see this poster that has been provided by the Ministry of Health regarding symptoms of COVID-19, colds and flu.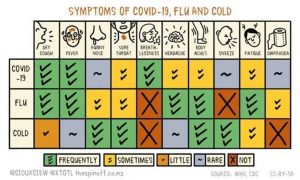 Hi everyone,
The following measures are now in place at Middleton Grange School (until further notice)
• No physical contact with others while at school
• We will all practice socially acceptable distance between each other
• No sharing water bottles
• No cakes/shared food
• You must wash and dry your hands thoroughly after going to the toilet
• It is critical that you maintain your own personal hygiene
• No physical contact in Physical Education or in the playground
• No physical contact in Dance/Drama etc
• Desks are to be separated in all classes where possible.
• The class roll will be taken at the start of each class
• Students will be in a seating plan in case the MOH require information of who sat next to whom
• Canteen line must have the appropriate distance between all students at all times
• Weights room will be closed
• Year 13 Study Room will be closed during breaks
• Production end of Term 2 has been cancelled
• All Kapa Haka has been cancelled
A deep clean has been undertaken on Sunday afternoon on all high-touch areas including all kitchen spaces, all desktops, all door handles with a product that has a 3 weeks efficacy.
Thank you for supporting us and praying for us as a school. We are part of an amazing community!